The Benefits of using Jute & Cotton Bags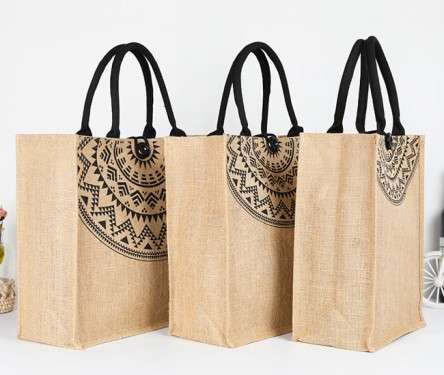 Bags made of jute and cotton have been popular for a long time, and utilising these bags has become more of a requirement in recent years as pollution and global warming have become more of a danger. On the Other hand, Cotton and Jute bags should not be used just for environmental reasons. These bags include a number of appealing features that make them an excellent choice for your everyday needs.
Molding into Shapes is Simple:
Natural fibres like jute and cotton can be stitched into any desired size and shape. This is why there are so many fantastic shapes and sizes from Jute Bag Manufacturers in Udaipur. These two materials have been given a variety of shapes to complement your everyday clothes, ranging from pouches to conference folders.
Environmental Contribution:
When you use bags like these, you are truly helping the environment. Even when you throw these bags away, they will decompose on their own and will not contribute to the growing landfills. Furthermore, because these plants use very little fertilizers or pesticides to grow, you are making a major contribution to the environment.
The Durability Factor:
If you think jute and cotton bags aren't as tough as synthetic bags, you're wrong. As one of the leading Braided Jute Bag Manufacturers in Udaipur, we can assure you that bags like these will be your dependable companions for life. These bags are very easy to wash and care for because they are constructed of natural fibres, which naturally enhances their longevity. These bags are built to last because they are durable and solid.
Designs That Are To Die For:
When you order jute bags from our printing firm, you have a wide range of designs to choose from. The decorations on the tops of the bags are simple and elegant. With your distinctive choice of accessories, the bags ensure that you stand out from the crowd. You can use these fashionable bags into your dainroutine to complement your outfit.
Carrying Weight Capacity:
Jute and cotton bags have a commendable carrying weight capacity. Our jute shopping bags, for example, are capable of transporting up to five kilogrammes with ease. You don't have to be concerned about the bag collapsing with the weight of your belongings. Our packaging company's large interiors ensure that whatever you choose to bring with you fits comfortably within the bags.
The Cost-Effectiveness Factor:
Jute and cotton are extremely cost-effective when compared to the excellent quality they provide. The pricing is such that you will be enticed to browse more and not just buy one bag.